Nita
has tatted a lovely bookmark in 40 DMC cordonnet for a friend by Terry McGuffin. What a great gift! I'm sure he or she will love it! She's also done up a lovely Stargazer lily done by Linda Davies, revised also by Terry McGuffin, this time in DMC 80.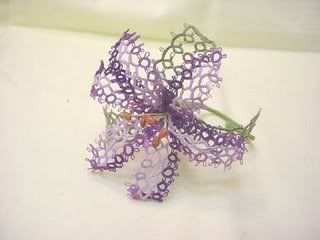 Ellen
shows us a lovely square doiley done in 20 flora. She's modified Iris Niebach's Square Dalia doiley to meet the size requirement for the exchange she was participating in. It's made the doiley look more 'rounded' but I think it looks gorgeous! I'm so jealous for Mona who will be expecting this lovely piece in the mail!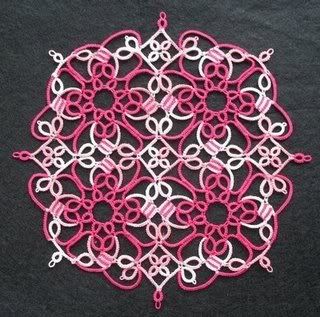 Jeff
shows us his entries for the 'Tally-Ho Cluny' Olympic challenge. He's done Tatman's Hazel Angel in 20 DMC as well as Monica Hahn's Cluny Medallion in Flora 20. If I were the judge, I'd give him the gold medal for sure! Jeff has completed his 25 challenge but is restarting from 1. Jeff hopes to do some 3D Christmas tatting. I can't wait to see what he comes up with - maybe he'd like to try his hand at Carol's famous and ribbon winning Gingerbread House!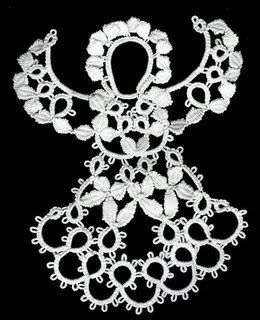 Terry's
snowflake had taken on a life of its own and ruffled but Terry was able to 'control' the 'wildness' with the last row of his lovely snowflake. Though the photo doesn't really show, the snowflake has 96 small beads in it!
Wally's
taking a break from her large Olympic doily and did up Sharon Brigg's Snowman Doily which turned out to be a cutie just under 6 inches. She used DMC Petra in white and Ladyshuttlemaker's Lazy Daisy HDT. This is her first try at tatting with HDT and I think we've just added another member to the HDTA! She'll be using the leftover thread for a bookmark and will make some butterflies for her cousin's 15th butterfly themed birthday party. Feliz quinseañero a tu prima!
Diane
has started started "Eleonora" by Iris Niebach but wasn't able to concentrate on it. Note to Jane: Diane wants to borrow one of your braincells! Maybe Jane can start renting the cells! Instead she started tat Design 1 from Tatting: 60 Original Lace Treasures by Christel Weidmann in 20 Berry Parfait HDT from Ladyshuttlemaker and is planning to use it as a picture frame. What a lovely idea.
Jon's
taken an old straight edging and given it a twist… or a turn rather and has kindly shared her pattern for the corner
here
.
Jeanne
has received some of Ladyshuttle maker's lovely HDTs. We can't wait for what she will do with them!
Barbara's
been off for a while due to some things at home but she's still tatting away working on a piece using Altin Basak metallic thread size 50. She broke the thread once but it sounds like she'll well on the way. She promises photos soon! We're all on the edge of our seats.
Mark
seems to have been waging war on UFOs. Another one bites the dust.
Sharon's
put up another challenge, check it out!
Looks like
Sherry's
home stayed out of the reach of the fire that raged her neighbourhood. We are all with you Sherry and we're glad you and your family (and your house) are safe.
Snowy's
done 7 little motifs but is having problems with gauging thread length. We all feel your pain...