It's been snowing at
Heathers
! I wish I had snow. She shows us her furry little babies as well as some lovely bells that she's been tatting for. I think It's a lovely idea!
Alan's
won a whopping 16 blue ribbons at the state for for his work! That's a whole lot! He shows us his award winning booties (by Lenore English) and the baby bonnet.
Kathy's
in the mood for some pumkin carvings!
Tattingchic
is taking part in a blogapalooza (did I spell that right?). Post a pumpkin and share a scary story. Tattingchic shared a horrible experience… as well as the
pattern for the pumpkins
(kindly provided by Kathy) They're cute. I wanna make em too!
Ellen's
done a doll for her daughter and shows us some of her other daughter's craft works. She also shows us her heart doiley hot off the blocking board.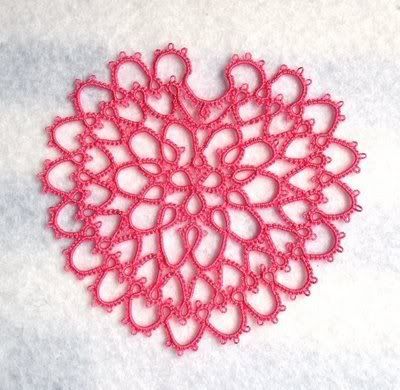 Stephanie
shares some lessons of life learnt from lace - take a gander.
Barbara'
s done up Tammy Roger's maple leaf. Autum leaves are still floating to the ground!
Iris
is working on a collar and a sixstar. She has kindly shared the patterns on her blog.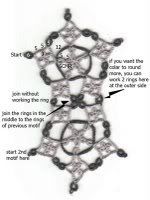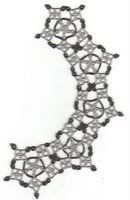 Wendy's
making some lovely aprons.
Carolyn
shares her 8th motif by Lynn Morton done in Lizbeth thread. I've seen so many tatters use it I'm tempted to get some.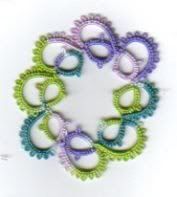 Arlene
shares her Glow in the Dark tatted Xmas balls and shares her supplier too!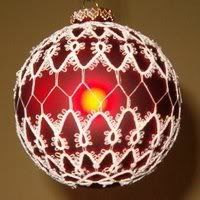 Check out
Carol's
halloween costume. Not to mention Rebel's!
Diane's
done another spinning wheel. This time in Knitty Gritty (one of my favourite HDTs from Marilee)
Laura's
done a spinning wheel too! In Rhubard Pie.
Marilee's
tempting us with another new pattern!
Riet
found a forgotten book in the attic - the next best thing to getting a brand new one!
Ruth
shares a star of david pattern.
It's Sherry's birthday! Happy birthday
Sherry
!
Snowy's
done one of Anne's dragons as well as an Aladdin snowflake by Jon.